Gale Sayers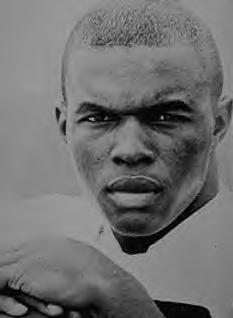 Born in Wichita, Kansas but raised in Omaha, Nebraska, Gale Sayers graduated from Omaha Central High School. There he set a state long jump record of 24'113⁄4″. He went on to play college football at the University of Kansas and was a two-time All-American. During his Jayhawk career, he rushed for 2,675 yards and gained 3,917 all-purpose yards. In 1963, he set an NCAA Division I record with a 99-yard run against Nebraska. In his senior year, he led the Jayhawks to a 15-14 upset victory over Oklahoma with a 96-yard kickoff return. Sayers is considered by many to have been the greatest open field runner in college football history.

He was a first-round pick in the 1965 NFL Draft, and played his entire pro career for the NFL's Chicago Bears. Sayers' records include most touchdowns in a rookie season (22 in 1965), most touchdowns in a game (6, tied with Nevers and Jones), highest career kickoff return average (30.56), and most return touchdowns in a game (2, tied with many players).
Sayers is a member of both the Pro Football Hall of Fame and the College Football Hall of Fame. His friendship with fellow Chicago Bear Brian Piccolo was the basis for the 1971 movie Brian's Song. He is a successful entrepreneur in the information technology field and an active philanthropist.
After completing his professional football career, Sayers returned to his alma mater, the University of Kansas and received a bachelor's degree in Physical Education, while also handling duties as the Assistant Athletic Director. Sayers accepted the assignment as Assistant Director of the Williams Education Fund for three years and picked up his master's degree in Educational Administration. Sayers was Athletic Director at Southern Illinois University from 1976 through 1981. Following a very successful career at SIU, Sayers moved back to Chicago and launched a Sports Marketing and Public Relations firm, Sayers and Sayers Enterprises.
After a successful career in athletic administration and sports marketing, Gale launched a computer supplies business in 1984. Today, Gale has built that business into a world-class provider of technology products and services, and a premier minority-owned business enterprise (MBE). Sayers brought his characteristics of pride, poise, leadership, dedication and loyalty, from the playing field to the board room. Gale+Sayers+10th+Annual+Harold+Pump+Foundation

In 1999, Gale was inducted into another Hall of Fame – the Chicago Entrepreneurship Hall of Fame. He is also a recipient of the prestigious Ernst & Young Entrepreneur of the Year Award. Recently, the University of Kansas established the Gale Sayers Microcomputer Center, in recognition of Gale's commitment to both education and technology.
Gale serves on the Board of Directors of Triad Hospitals, which manages healthcare facilities in the south and southwestern United States, and American Century Mutual Funds, in Kansas City.
Sayers personally and professionally devotes a great deal of time supporting and fundraising for a variety of charitable organizations, and speaks on behalf of many organizations. His commitment to the community includes the Boys & Girls Clubs of America, Marklund Children's Home, Boy Scouts of America, American Cancer Society, Better Boys Foundation, Junior Achievement and the Cradle Adoption Agency. He is a popular and frequent public speaker. His professional football accolades include: NFL Rookie of the Year Award in 1965, named MVP of the 1967, 1968 and 1970 All Star Games, named to the 75 th Anniversary All Time NFL Team, the Chicago Sports Hall of Fame in 1980, the Blacks Sports Hall of Fame in 1975 and the NFL Hall of Fame in 1977. In July 2000, he was named to the NFL All-Time Millennium Team.
In addition to his business and personal endeavors, Sayers has authored an instructional publication on the fundamentals of football's offensive strategies called Offensive Football . In addition, his autobiography, I Am Third , was produced into an award-winning television movie, Brian's Song . The movie featured the special personal and professional relationship between Sayers and his cancer-stricken teammate, Brian Piccolo. Although his technology business is his first priority, Sayers finds time to do motivational speaking engagements for worthy causes.