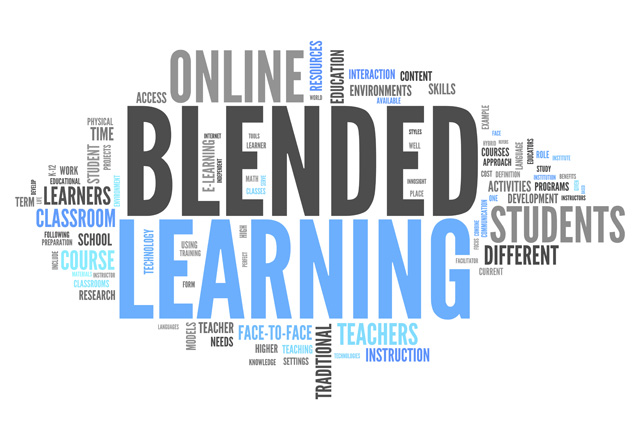 Most of us were brought up in the traditional classroom setting where all of our education came directly from the teacher to us. We were expected to sit still at our desks and pay attention to the lesson regardless of whether we were interested in the content or not. We were also given clear instructions of how to perform our various assignments, essays and tests and when we were expected to have them all complete.
This type of traditional schooling still happens today, but there are some who are trying out a different approach known as Blended learning. In addition to traditional face-to face teaching, Blended learning allows students to conduct some course work on their own through the use of online labs and online courses. The students are also allowed to move at their own pace and set their own goals. In the cases where students are working by themselves in the classroom setting, teachers are still there to provide any support needed. The teacher's job is to help facilitate these different forms of learning. Occasionally, the class may be split with some receiving face-to-face while others work online. Some students also may have the option to conduct their studies at home through the use of online drivers where an online teacher delivers the entire curriculum.
Several high schools in the United States have taken on Blended learning and some have seen very positive results from most if not all of their students. However, it is difficult to determine whether the benefits will outweigh the challenges. Certain enhancements in the program still need to be made before Blended learning can be truly effective. These are: the seamless incorporation of online content, high quality and dynamic content, personalized learning experiences and enhancing student motivation.
With the bleak budgets and the shortage of teachers, the US government is requiring schools to do more with less. It is anticipated that by 2019 about 50% of all high school students will be taking online courses. It is thought that the use of information and computer technology in the classroom will result in the students having better attitudes and a greater desire to learn. In addition, those students who have a particular aptitude for certain subject matter can move ahead to the next levels more speedily while others can work at their own pace. Students can also complete homework assignments as well as work on group projects online through email, online discussions and web conferences.
Blended learning relies heavily on its technology and thus it is also paramount that the technology is in working order at all times. This can be a disadvantage should the proper supports not be in place. It can also be a disadvantage for those students who are not familiar enough with the technology and have a difficult time accessing the course work.
However, some have noted that it is hard to find quality content/video of what blended learning actually looks like inside a classroom. In fact, Jeff Liberty, senior director of teacher development initiatives at BetterLesson, an organization that has created an online library of professional development tools for teachers has often noted the difficulty in finding coverage on Blended learning in the classroom. "There has been a lot of talk about blended learning over the years," Liberty said, "but we like to joke that it is a bit like a unicorn that people believe in but they have never seen it."
Blended learning is on the rise in both the United States and Canada. Only time will tell how present and future generations will be effected by the change. Join us and donate to help bring about a positive change through your support of our foundation and Blended learning.